Gotham city imposters Wiki is a community site that anyone can contribute to. Discover, share and add your knowledge!
Trending articles
Popular categories
View full main page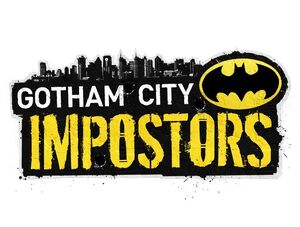 Welcome to the Gotham City Impostors Wiki
Gotham City Impostors is a First Person Shooter developed by Monolith Productions and published by Warner Bros. Games.

This wiki was under administration from Black Marvel5, but is now currently under editing from Kaine. To see what you can help with, check out his blog posts on his user page. Thank you. Gotham City Impostors is currently $15.00 on Xbox 360 and Free-to-Play on Steam.
During the first week of its' launch Gotham City Impostors had approximately 80,000 players on Xbox, 60,000 players on PS3 and 45,000 players on PC. [As of Feb. 1 2012]
There has been a content patch released as DLC for Xbox, PC and PS3 which gave players new weapons, a new map and new costume pieces.
With over 1,000 levels of gameplay, Gm City Impostors is one of the most customizable games available in the FPS Genre.
Monolith Productions also created F.E.A.R. , F.E.A.R.2 and Aliens VS Predators.
Upon release of Gotham City Impostors there was $220.00 USD worth of DLC to purchase in addition to the original $15.00 USD purchase of the game.
Administration
This wikia is officially under administration from Kaine ! Changes to the wikia will be made very soon.